NHS England PPE Supply Chain
As coronavirus (COVID-19) rapidly spread across the globe, Hatmill and its strategic partners faced a daunting task – managing the supply chain of critical healthcare equipment during an unprecedented emergency.
Summary
With a surge in demand for Personal Protective Equipment (PPE), Hatmill was tasked with supporting the existing pandemic warehouse and then setting up a parallel supply chain network for future inbound products. We also had to make sure that the public purse got value for money.
What we achieved, working closely with partners across government, the military, the NHS, supply chain, and logistics, was the establishment of a brand-new supply chain, capable of delivering up to one billion units of PPE a week.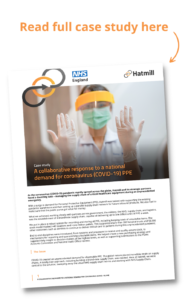 What we did
Set up a brand-new supply chain, with all relevant controls, procedures and warehouse management systems (WMS) to manage England's PPE stocks and liaise with other home nations. The first site was up and running, ready for inbound receipts within just four days
Implemented a robust stock model giving visibility of available and quarantined stock. This included a network of 40+ locations & 1m+ pallets
Collaborated with a wide range of organisations spanning the public and private sector and military to work as one team with one mission to get the job done and protect the front line of the NHS
Supplied daily insight to the Department of Health and Social Care (DHSC) to inform government decisions and Number 10 press conferences
Managed relationships with NHS buyers who were used to pulling stock at will at the start of the pandemic to support NHS trusts
We implemented a change back to a push model of stock management once established
Created a purchasing strategy and agreed budgets with buyers to ensure the right PPE was being purchased
Supported DHSC in preparing for multiple Public Accounts Committee meetings and National Audit Office reviews
Supported the recruitment of a new team with the right skills to continue to run the supply chain once Hatmill's team were able to exit
How we did it
Set the team up in parallel with, but separate to, existing supply chain systems and operations
Used product specifications and quality control systems for inbound goods, many arriving from other countries, in conjunction with the Health and Safety Executive (HSE) and Medicines and Healthcare products Regulation Authority (MHRA) to ensure compliance
Created the analytical and operational systems needed to run a supply chain at scale, including allocation and demand profiles, and peer reviews of contracts and spending to ensure good value for taxpayers
Set up an e-commerce platform to allow smaller, local healthcare providers to order quantities of PPE as needed
Developed more effective and user-friendly stock control and ordering processes
Implemented industry-standard project management, reporting and data analysis capabilities
Sourced locations for active warehouses and spaces to hold rejected PPE which would need to be dealt with later
Managed the third-party logistics (3PL) contracts to ensure that they were delivering effectively and giving value for money to the NHS
Enabled 3PL companies to develop their own skills and abilities to deal with an unfamiliar client, new and rapidly changing product ranges and a requirement to check and manage product safety
The outcome
A brand new, successful supply chain operation which delivered only compliant and safe prior permission required PPE, on time and to the right place
Supported the introduction of c.3000 SKUs from the 148 SKUs pre pandemic
Supported more than 280 hospital trusts and 58,000 other customers such as dentists to continue to deliver critical care to patients
A network capable of delivering up to one billion units of PPE a week
Created a system for recording and storing all PPE, including unsuitable items for which the costs are now being reclaimed
"Hatmill played an instrumental role in supporting the launch and delivery of the PPE and Vaccine programmes, their operational guile and dedication to the cause was critical in the delivery of the operational elements of these programmes" Steven Gibb, Supply Chain Director – Vaccine Programme, NHS England
Case Studies
Our Work
How we've delivered improvements and outstanding results for our clients.