Pop-up warehousing – creating online shopping fulfilment capacity, and fast
Is this a short-term phenomenon or an emerging trend?
There's no doubt that COVID has had a radical impact on customer behaviours, and there's a good chance that some of those trends will stick. What does that mean for manufacturers, distributors and retailers who need to quickly respond in the short term, but also adapt plans in the medium-term to fulfil customer needs? 
Changing customer 
behaviours and expectations
When we say a radical, we mean it. Pre-COVID around 5-8% of all UK grocery orders were online (forecast to be 9% in 20211), with people preferring to pick up their shopping rather than pay for delivery. Feedback from retailers now suggests that's all turned on its head, with some comparing online order volume to 'Christmas, but every day'.  Looking at recent data from McKinsey(2) that doesn't look like changing back any time soon; more customers now ordering online and avoiding visits to physical stores, with many individuals intending to keep it that way. 
At the same time competition is intensifying with the likes of Amazon ramping up online grocery service (BBC, July 2020)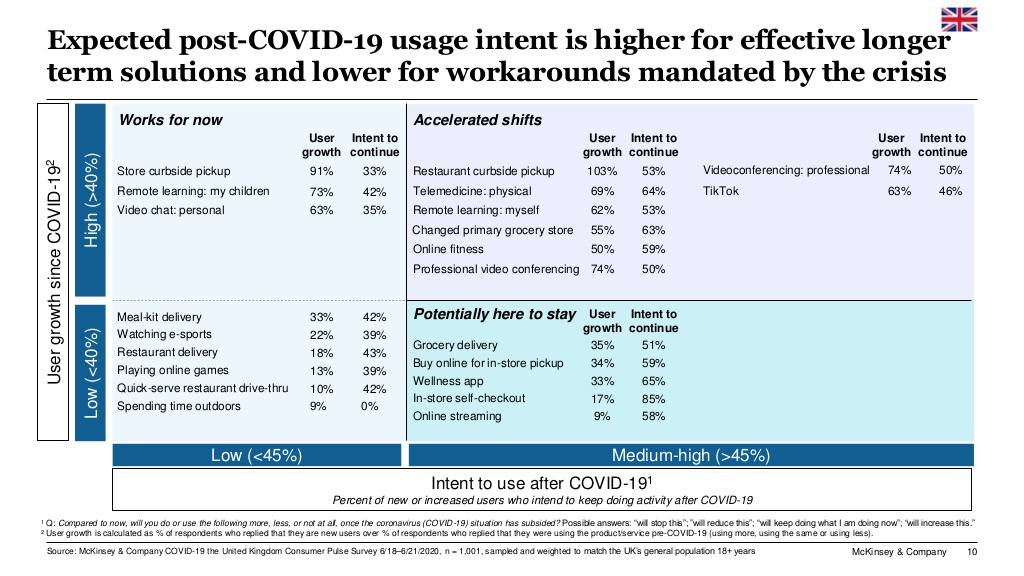 Fulfilling peak (and then some)
What does this mean for retailers and their supply chain? It means they're grappling with how to fulfil consistent peak online volumes. And that's before traditional peak periods like Black Friday and Christmas come along.
Having enough space to adapt your fulfilment strategy is a common challenge, but it's not just space that's an issue; only 10 of the 100 3PLs surveyed by the UKWA said they were continuing operations as normal, with 26% of respondents reporting sickness-related absences and 23% reduced shifts. But, only 3% said they had seen a shortage of temporary labour.
Creating warehouse capacity – agility is key
So, it's imperative to create a model that can support peak volumes all the time – that's the new normal. But usually, developing this capacity takes time, one thing that's in very short supply.
But, while it's good to be preparing for the worst-case scenario, we suggest you should be cautious when it comes to making fast-track large-scale investments, e.g. buying a new warehouse space, until you are certain customer behaviours are going to stick. When looking at post-COVID property requirements overall, my colleague John Hayward co-authored an article (LINK) with Kevin Mofid at Savills, looking at other supply chain and operational drivers that could influence demand for warehouse space e.g. automation and nearshoring.
You'll want to consider broader factors before committing to such investment and if we've learnt anything over the last few months, it's that things can change a lot – and fast. You need a quick, cost-effective solution and operation that you may want to exit from as quickly as you entered it.
What is pop-up warehousing?
In a nutshell, pop-up warehousing is taking existing or under-utilised space, such as seasonal overspill capacity or underperforming retail space and repurposing it to an operational e-commercial micro-fulfilment solution.
Fast go-live and increased capacity from a low-cost base are the prizes on offer; for example, recently we have repurposed empty warehouses to be pick and pack operations in just 7-10 days on a low budget.
Of course, not all your existing space sitting empty will be appropriate – when considering using closed shops, there may be usage restrictions such as the type of business, trading hours and health and safety processes will need to be adhered to.
We can help you to evaluate your available property, systems and processes to create an online fulfilment centre that could be capable of servicing over 10,000 orders per week.
Is pop-up warehousing the future … at least for the next few years?
There's every chance we are going to be living with COVID for the foreseeable future, and that means building agility into your model. Pop-up warehousing is:
Low cost – repurposing existing space
Responsive – Turn it on and off, and increase volumes because you can use the site 24 hours a day
Agile and flexible – you can change the range, service offer, location etc very quickly with virtually no depreciation costs
COVID Safe – all social distancing factors considered with the design and labour can be spread over longer hours
Setting up a pop-up warehouse
There are ways you can relieve short term pressure to create capacity for inventory and fulfilment, that can be turned around very quickly – we did just that recently, creating pop-up warehouse operations for a large high-street retailer within a week – from scratch to trading. Re-purposing existing underutilised space to provide urgent additional capacity to fulfil online customer orders
End-to-end support: We worked with our client to develop the strategy, designing physical operational layout options, interrogating the data and process flows, and then rolling up our sleeves (literally!) to implement the agreed layout designs
Deliver at speed: Built a network of micro-fulfilment sites to service online customer orders, from a standing start turning each site from having no operations in place to having operations start inside 7-10 days
Systems and processes: Implementing COVID safe warehouse layouts, factoring social distancing best practices, building specific and focused WMS systems for stock control and picking locations.
Continuous improvement: Once the site is up and running, we supported the operation to implement the most appropriate warehouse management best practices to optimise the site throughput and operational compliance.
However you approach the challenge to managing and fulfilling different volumes of dotcom demand, we recommend that you remain agile and nimble in your supply chain response. There's no doubt pop-up warehouses have a role to play in the short and medium-term. We can help you respond, at speed, to design and develop a solution to manage and fulfil your peak+ volumes now and in the future.
Source:
1 – https://www.statista.com/statistics/611045/grocery-retail-channel-share-united-kingdom-uk/
2 – https://www.slideshare.net/McK_CMSOForum/mckinsey-survey-british-consumer-sentiment-during-the-coronavirus-crisis/10
3 – https://www.ukwa.org.uk/market-intel/ukwa-highlights-crucial-shortfall-in-warehousing-capacity/
Ideas & Insights
Sharing Our Expertise
Our guides, ideas and views. Explore our insights to deliver tangible improvements to your supply chain and logistics operations.