Hatmill wins at Yorkshire Business Masters 2022
The Hatmill team are celebrating after winning the Small Business of the Year Award (up to 50 employees) at the Yorkshire Business Masters.
The awards, which recognise the best in business in Yorkshire, were attended by more than 400 guests at The Queen's Hotel and is a calendar highlight for the region.
The judging panel including CBI regional director Beckie Hart, Leeds City Council's chief officer for culture and economy Eve Roodhouse, and Stuart Watson, an experienced business advisor who is supporting Panmure Gordon's return to the region, highlighted Hatmill 'becoming employee-owned, significantly increasing the size of the team and cultivating a roster of blue-chip clients' as key reasons for the win.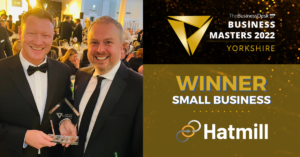 TheBusinessDesk's Yorkshire editor, Andrew Staples, said, "I know the judges faced tough choices not only to pick this evening's winners, but even to pick the shortlist. A local businessman said to me recently that anyone can lead a business in good times; what matters is how you lead in challenging times. Every firm shortlisted demonstrated fortitude and adaptability. Many congratulations to our winners."
Simon Dixon, Founder of Hatmill, said:
'It's such an honour for Hatmill to win this prestigious award. It's fantastic recognition of the team's efforts after more than 13 years of consistent growth and success. Transferring ownership into my amazing team's hands last year was such a great moment and I'm so proud of the team for what we've achieved."
"The last year has been one of the most challenging of Hatmill's journey so far given the impact the pandemic and economic environment has had on supply chains, but we've all pulled together in supporting our clients cope with unprecedented demand, changes and challenges."
Ideas & Insights
Sharing Our Expertise
Our guides, ideas and views. Explore our insights to deliver tangible improvements to your supply chain and logistics operations.