Hatmill supports Burnley and Pendle Young Carers Christmas appeal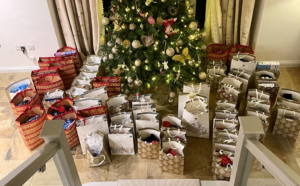 Hatmill, the employee-owned supply chain and logistics consultancy, has supported the Burnley Young Carers Christmas appeal. 
Earlier this year, the Hatmill team completed the 22-mile Chatsworth Challenge walk, raising over £2500 to buy Christmas gifts for the young carers in recognition of the incredible job they do caring for their vulnerable parents or guardians.  
The money raised went to providing Christmas gifts for 59 children aged between 7 and 16. Gifts ranged from hoodies, Lego, make up sets, felt tips, PJs, backpacks, lunch bags and lots of chocolate. A donation was also made to the charity to support future projects.  
 Alison Harris, Burnley and Pendle Young Carers said: 
"The donation from Hatmill and the fabulous Christmas presents they provided for our young carers really does mean the world to them. The young people feel appreciated and grateful that their hard work doesn't go unnoticed." 
Simon Dixon, Founder and MD of Hatmill said: 
"Giving back is fundamental to our values at Hatmill. We genuinely care about helping to build a better future for our clients and our colleagues, but also supporting community projects. We're delighted to support the Burnley and Pendle Young Carers Christmas appeal and I hope the gifts are an extra treat for the children who perform such a vital role for their families." 
"We've always supported charities close to the hearts of our team with a variety of activities. And since 2019, we have donated 1% of our profits to charity. This year the three deserving charities chosen by the team were The Children's Adventure Farm, Mental Illness Research in Children and Young Lives (MIRICYL) and Community Food Initiative North East." 
Ideas & Insights
Sharing Our Expertise
Our guides, ideas and views. Explore our insights to deliver tangible improvements to your supply chain and logistics operations.