Change is a Constant – speaking at the UKWA conference
Linzi Parry reflects on UKWA Conference Panel Session
Linzi Parry, Hatmill's change and transformation expert was asked to moderate the panel session 'Change is a Constant' at the recent UKWA Conference. Panellists included: Adam Jones, Carlton Forest Group and Jon Sleeman, UK Industrial & Logistics Research at JLL. In this article, Linzi shares her reflections from the discussion.
Warehousing is an exciting and dynamic place to be with a wealth of inspiring opportunities. But with continued disruption and uncertainty in our industry (and the world), we now have no choice but to accept continuous change at a pace faster than ever before. To thrive we need to continually adapt – not only engaging new technologies but new business models and new ways of thinking.
The discussion focused on the importance of getting the right people and capability in the right place, at the right time, with access to the right process and technologies to deliver success. During the session Linzi challenged the audience to consider their people and the environment we as leaders create.  Significant performance improvement comes when we engage the power of the whole workforce as early in the change cycle as possible.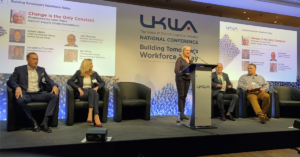 Adapt & be agile to thrive
We discussed the speed of change and how it's never been more important to have the capability to quickly adapt. In order to succeed organisations must be continually looking out for new opportunities and responding to new scenarios. Agility and dealing with uncertainty or ambiguous situations is key to thriving in our rapidly changing world. We defined agility as being efficient at delivering continuous change.
The themes of collaboration and new talent development were consistently part of the discussion and recognized as a challenge across all industry sectors. As we've seen in recent years' there's not always a clear path to what's next and longer-term plans need to adaptable, not set in stone.  What is clear is the difference that engaged employees make to the productivity of the workforce.
Resilience & flexibility are vital for success
We found that the language of 'flexible', 'remote' and 'resilient' have become genuinely fundamental not just in terms of facing recent challenges but in our outlook and strategies for the future.  This is especially key around issues such as:
Shifting customer preferences – managing constantly changing priorities
Focus on diversity, inclusion, sustainability and green agendas
Labour market post-Brexit, post-covid – managing shortages
BUT there are also significant advantages as we have seen during the pandemic:
We work in an industry that is both pragmatic and innovative
There is huge talent and resilience in teams and individuals
Improvisation and creativity lead to inspirational solutions delivered in very short timescales
People are key to technology transformation & ROI
Technology continues to transform our operations and as an industry we have faced the disruption and opportunities from technology advancements such as AI and automation. There's always an agenda to do more with less so we're continually learning to be smarter about how we get the best from our investments in new process or technology. Ultimately that boils down to our people – the engagement, talent and experience in our workforce.
One question we at Hatmill ask our clients is "What % of your benefits will come from people changing their ways of working, ways of thinking and approach to problem solving?"  It's usually very high – there's no point having a shiny new automated warehouse without the talent and commitment needed to join the dots between customer promise and frontline teams and everything in-between.
As we look for the ROI from new property, technology and processes we recognised that this will only come if we prioritise creating an environment where people can bring their best selves and talent to work – this translates to greater innovation, creativity and productivity. But often this is left to chance, when really a little upfront thought and patience can help teams lean into the change and commit to making it work.
It was concluded that if we accept that employees make decisions and take actions every day that affect teams, operational performance, customer service and our organisation's results, we must prioritise investments in providing the support they need to adapt quickly and continuously.
Read more about managing change (here)
Ideas & Insights
Sharing Our Expertise
Our guides, ideas and views. Explore our insights to deliver tangible improvements to your supply chain and logistics operations.