Highly commended in the Medilink Healthcare Business Awards 2021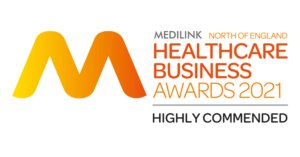 We're delighted to announce that Hatmill has been highly commended in the Medilink Healthcare Business Awards 2021. In association with Insider, these prestigious awards recognise the achievements of health sector organisations in what has been an extraordinary year. 
Hatmill worked in partnership with Clipper Logistics, to provide PPE to acute care services – supporting the critical care pathway and preventing the impact of COVID through timely and accurate deliveries supporting frontline services.  
As Simon Dixon, CEO, Hatmill comments, "It's an honour to receive this recognition for the Partnership with NHS: Acute Care category. It highlights the hard work and dedication of our teams in a year like no other. We worked hand in glove with our partner Clipper Logistics to provide the NHS with seamless provision during unprecedented times" 
Recycling strategy for PPE
The company continues to support Acute Care Services with a recycling strategy for PPE, building a recycling and disposal route for excess and expired PPE. 
NHS Vaccination programme
At Hatmill we're proud to have partnered with the Department of Health and Social Care (DHSC), NHS England, NHS Improvement, and Public Health England and work with other consultancies such as Efficio, Baringa and PA Consulting to work together, as one, and co-ordinate vaccinations to hospitals, GPs and pharmacies. It's rightly been recognised as one of the most successful campaigns of its kind.  
Ideas & Insights
Sharing Our Expertise
Our guides, ideas and views. Explore our insights to deliver tangible improvements to your supply chain and logistics operations.