Hatmill founder announced as a judge for Start Up Awards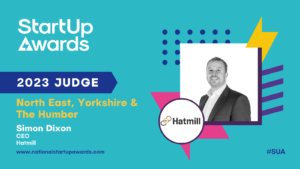 Simon Dixon, Founder of Hatmill, has been announced as a judge for The StartUp Awards.
The StartUp Awards National Series recognises the achievements of those amazing individuals who have had a great idea, spotted the opportunity and taken the risks to launch a new product or service. They're the only regional awards currently celebrating new businesses in the UK.
The StartUp Awards National Series will celebrate the incredible contribution of founders and their businesses in every nation and region to innovation, job creation and prosperity. They will also shine a light on the achievements of so many brilliant new ventures from all corners of the nation that will inspire others to follow in their footsteps.
Simon Dixon will be judging the regional entries for Yorkshire, The Humber and the North East. To enter click here
Simon Dixon, Founder of Hatmill, said:
"I'm delighted to join the judging panel for the StartUp Awards and I'm excited to see the entrepreneurial talent coming out of the region. There are lots of different categories so whatever your sector, I'd encourage start-ups to enter."
"13 years ago I was in the same position, starting up Hatmill so I understand the highs and lows of setting up a business and the sheer will, passion and dedication required.  I'm looking forward to meeting the next generation of entrepreneurs as small businesses are the backbone of the British economy. With everything the country has gone through over the last two years, now more than ever, it is vital we support entrepreneurs and business owners to grow and succeed."
Ideas & Insights
Sharing Our Expertise
Our guides, ideas and views. Explore our insights to deliver tangible improvements to your supply chain and logistics operations.